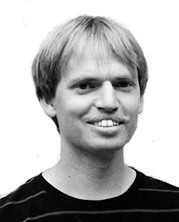 Position
Post-doc at Örebrö University
Expertise
Mobile robotic, vision (especially related to robotics) and maching learning.
Henrik Andreasson is a Post-doc at the Mobile Robots and Olfaction Lab (MRO) in the Centre for Applied Autonomous Sensor Systems (AASS). He is the author/co-authir of about 60 referred confrence papers and journal publications. He pushlished the book: Camera based Navigation by Mobile Robots (VDM Verlag Dr. Müller, 2009). He supervised 3 PhDs and 3 post-docs.
---
Selected publication
Rituerto, A., Andreasson, H., Murillo, A. C., Lilienthal, A. & Jesus Guerrero, J., 2016. "Building an Enhanced Vocabulary of the Robot Environment with a Ceiling Pointing Camera", Sensors, 16 (4).
Mansouri, M., Andreasson, H., and Pecora, F., 2016. "Hybrid Reasoning for Multi-Robot Drill Plan-ning in Open-Pit Mines". Acta Polytechnica, 56, 1, p. 47-56.
Andreasson, H., et al., 2015."Autonomous Transport Vehicles: Where We Are and What Is Missing". IEEE Robotics & Automation Magazine, 22, 1, p. 64-75.
Cirillo, M., Pecora, F., Andreasson, H., Uras, T., and Koenig, S., 2014. Integrated Motion Planning and Coordination for Industrial Vehicles. Proc. of the 24th Int'l Conf.on Automated Planning and Scheduling (ICAPS).
Mosberger, R., Andreasson, H., and Lilienthal, A., 2014. "A Customized Vision System for Tracking Humans Wearing Reflective Safety Clothing from Industrial Vehicles and Machinery". Sensors, 14(10):17952-80 (a commercial product based on these results is planned to be released in spring 2017).